Here you can share and find out the   story about me and my dolls' styles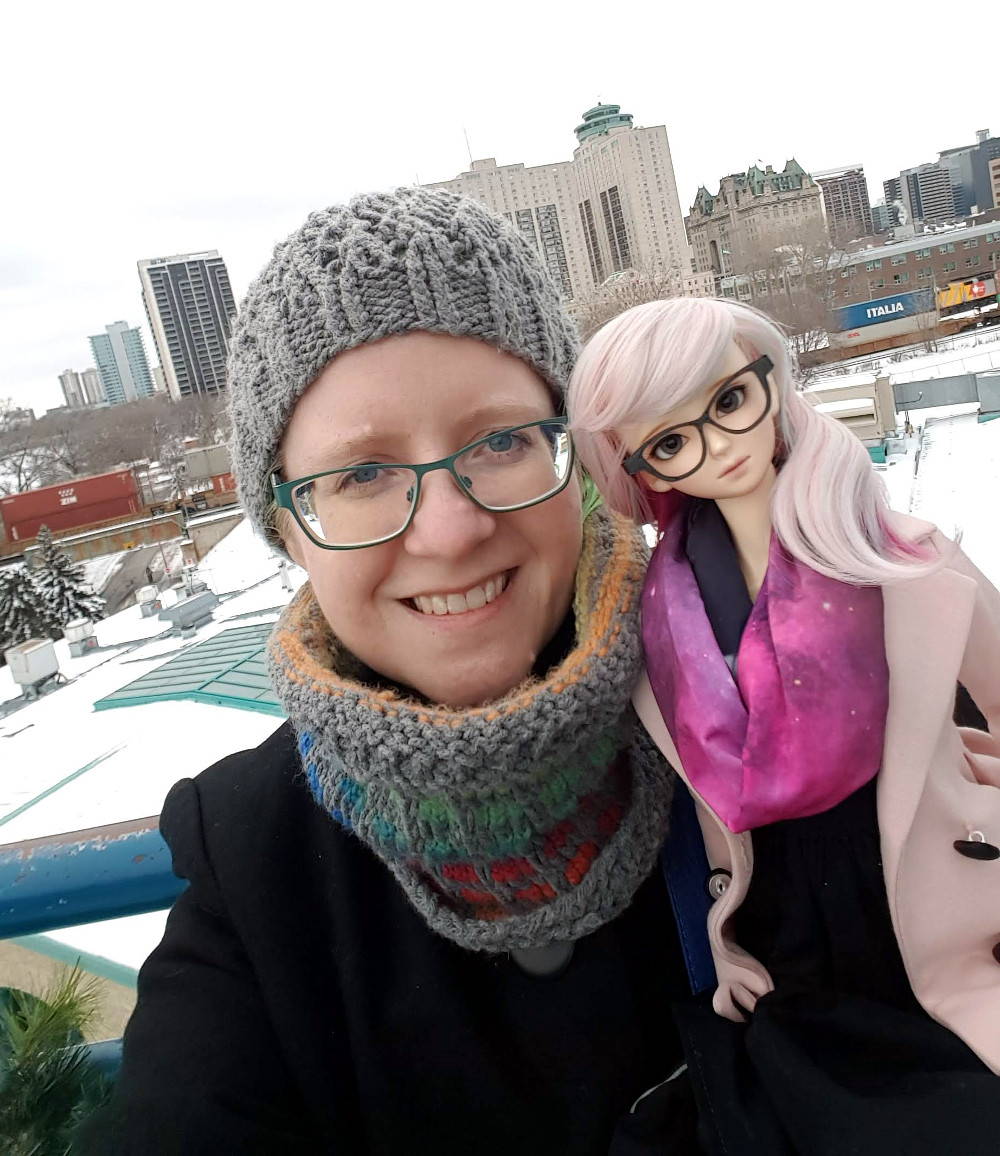 "I love colour. Blue the most, purple the least and everything in between! I wear clothes out that are as comfy as pj's but still acceptable.
Many of my dolls wear clothes I wish I could but my love for practical clothing choices prevent me from purchasing them!
My hair has been all the colours of the rainbow becuase it makes me smile each day. I think I will make a gallery of all my hair colours! "
Creative Mastermind, Stellar Evolution Designs / Stellar BJD Accessories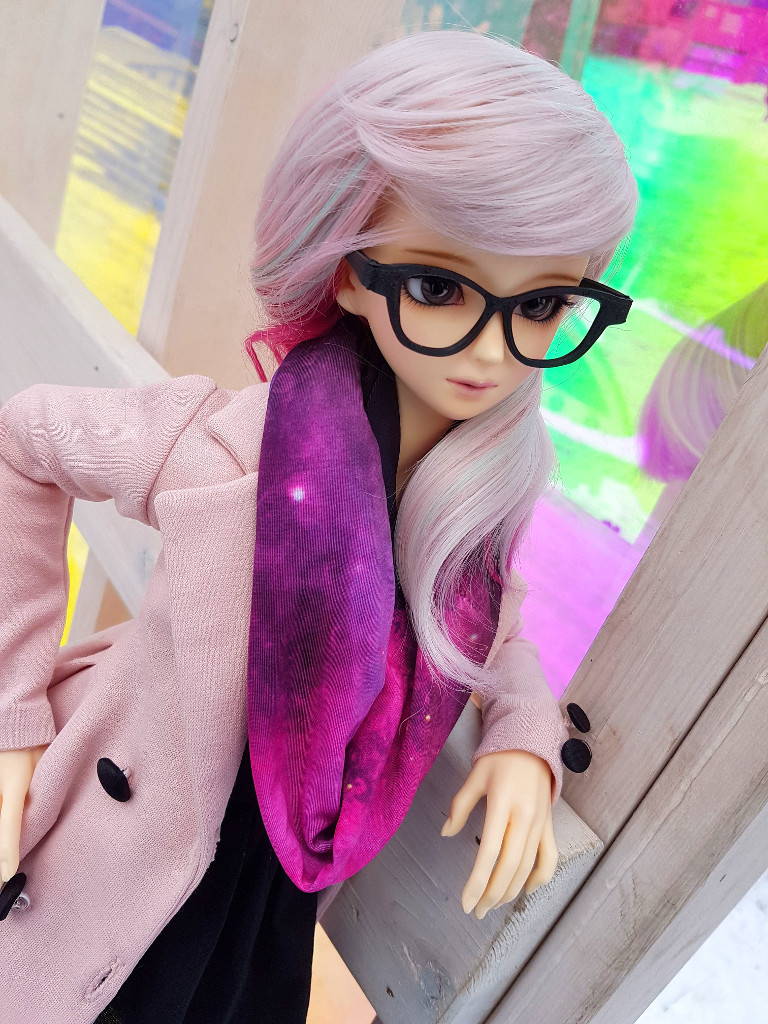 "Being the first doll in the collection means I love trying anything but at my resin heart I'm a big geek!

I needed my nerd glasses and love galaxy prints. I get to model all things 1:3 scale (SD13) and have cosplayed in a Power Loader to kick some Alien butt! Nothing but a blast and new adventures all the time! "
Dreaming Doll "Molly" Sculpt, 1:3 scale SD
While I would love to have all the dolls in the universe I'm afraid my house just isn't big enough! Scroll down to see more of my collection.
I love custom requests and do take commissions, sewing to your doll's measurements or designing to your specifications.
Please feel free to contact me if you have a doll you would like dressed a certain way or a specific project in mind that needs that special touch. I would be happy to provide an estimate or brainstorm ideas.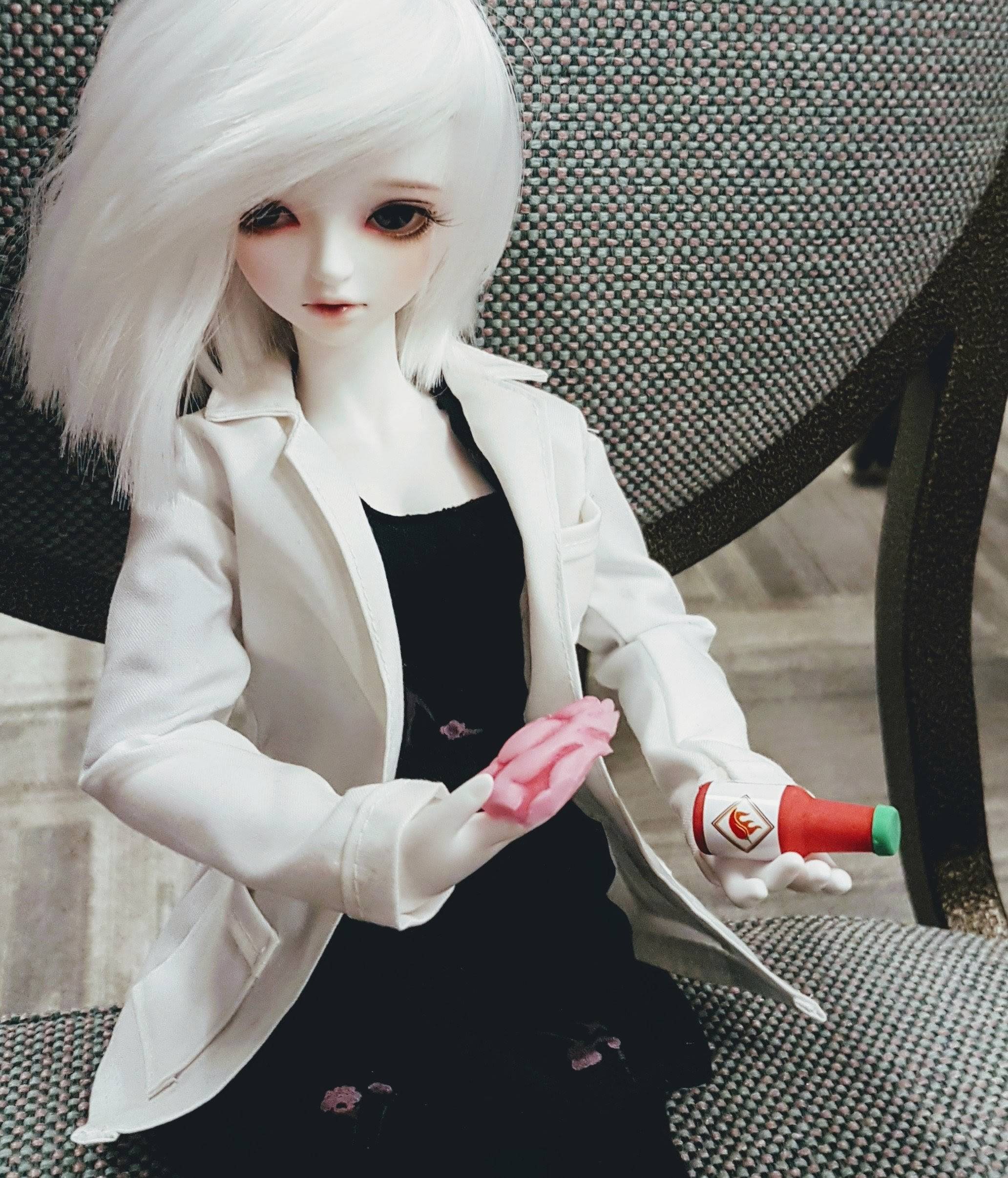 "Loving to play it up with a chunk of brains and a bottle of hot sauce I started out as a beloved cosplay of Liv Moore from TV/Comic Book "iZombie". But being a very flexible, posable and may I say, a beautiful shade of white, I get many cool things to wear!
I'm 1:4 scale and prefer anything with skulls, hearts or other delicious body parts on it! I'm a little bigger than my Minifee friends so Brenda tells me it helps when sewing up new patterns or for other dollies.
That's cool with me, so long as I'm paid in brains, pretty much anything goes!"
LIttle Sophia 1:4 scale MSD from Little Monica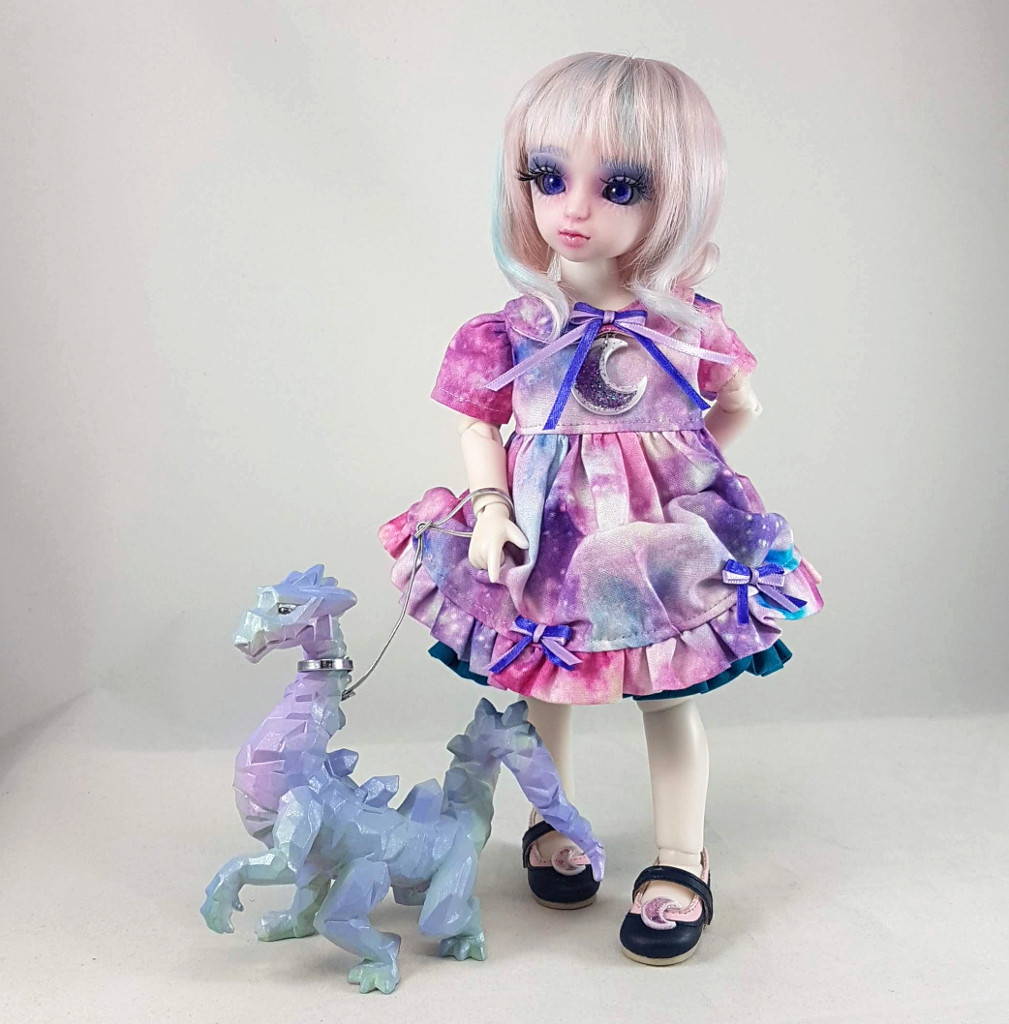 "Hi I'm Bella. I'm still a work in progress but I do think pastels are my thing. If I'm in a happy mood I will play amongst the stars and play with my pet dragon. If I get grumpy you might find me dressed in my creepy cute dresses with skulls on them.
I'm 1:6 scale and a little chubby around the middle, but a super little poser which makes me extra adorable!"
Bella 1:6 scale YOSD in Translucent Pink from Angell Studio
"Remember how Brenda said her fave colour was blue? I'm Rhea, named after one of the icey moons of Saturn.
I'm 1:6th-ish scale and enjoy my little apartment. I am an adventurer in space and time and hope to collect pieces from my travels over time.
My booty also looks great ;P A big thanks to my artist for my good looks!
Nena02 Reira in Iced Blue by Atellier Momoni 1:6 scale mature YOSD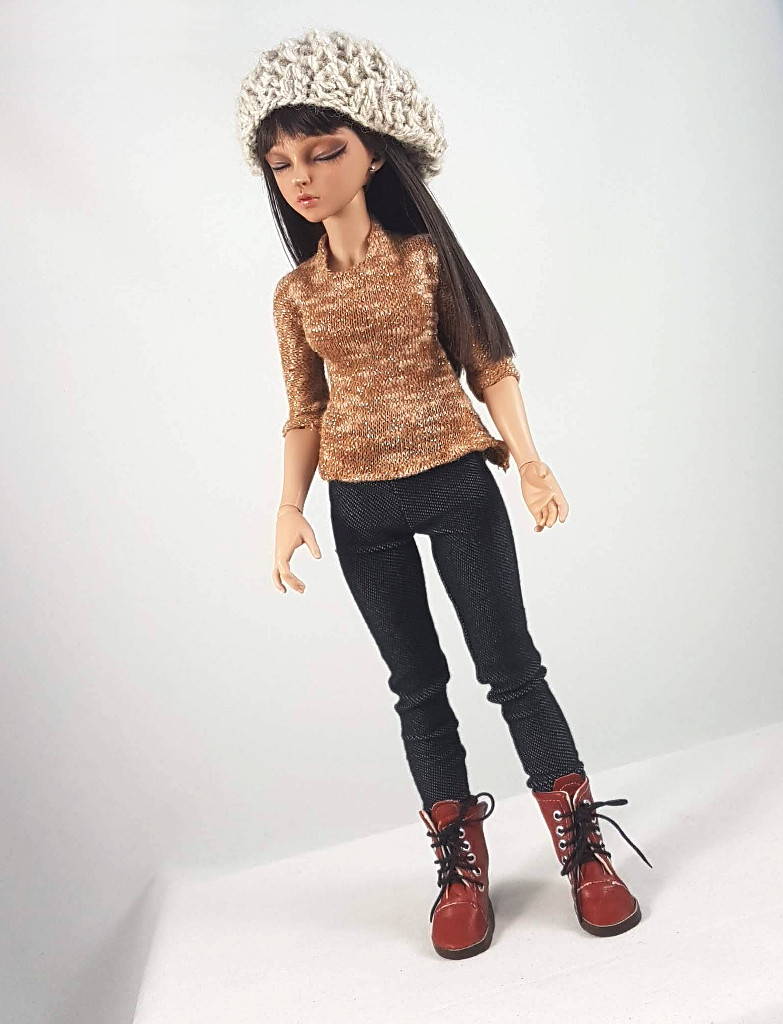 "Hi, I'm Dru. I'm pretty chill, love the cozy things in life like hand knits, leathers and warm colours.
I do like to explore the outdoors and go for a hike despite my shorter stature. I'm a 1:4 scale doll but as most Minifee's I am on the smaller, slim side.
I joined the collection more recently and look forward to getting a new wardrobe!"
Sleeping Sirrca Head on Minifee Moe Line Body Tan, 1:4 scale slim MSD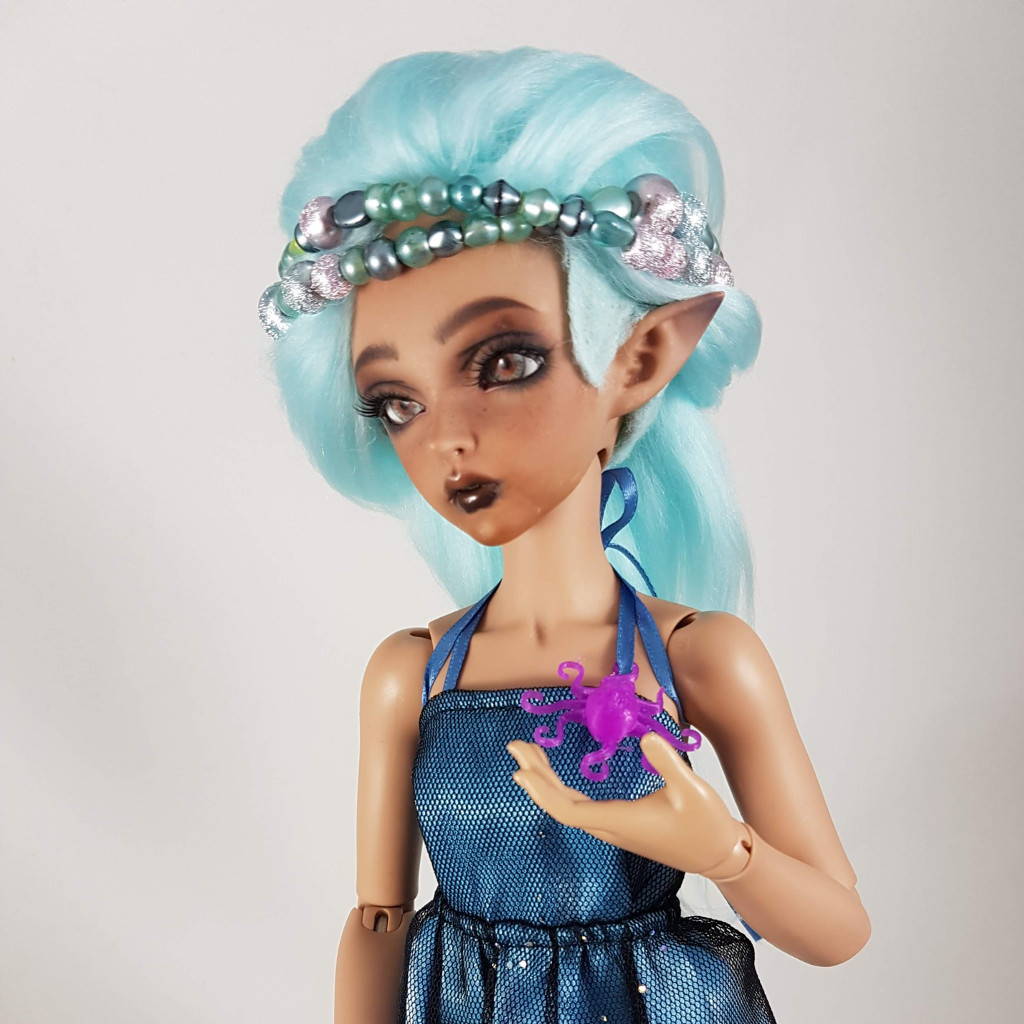 "Greetings from the sea! I'm Siren, current name as I'm the very newest here. I seem to take on a few forms from a sea fairing siren to a pinup model styled elf. Both forms seem to serve their purpose ;)    
I wish to travel to many more events to attract people to Brenda's booth to look at her amazing handmade items.
I enjoy many differing hair styles and clothes that show off my figure as that is most attracting to most doll collectors. They can't seem to resist."
Sircca in Tan Skin Minifee A-Line Body, 1:4 scale slim MSD
---
"Titled The Gift: Christmas Diorama Gallery.
While I await the longer brighter days, this little piece of gold will hopefully get me through the dark days that winter brings.
I hope it might do the same for you, or possibly inspire some ideas for a photo shoot or fabric adventure with your own dollies or art."
— The whole Stellar Gang 2018
Learn more about putting together this diorama, outfits and poses for the dolls. Click the button below for more details in my blog post!
Submit a story of your doll's style!
I would love to know about your doll's style, how he or she got his or her name, or how you found your doll!

If you are up for me sharing your story with my stellar fans, please let me know in your message. If not, that's ok too.

I will be in touch as soon as I'm able with a reply message and perhaps we can trade some dollie photos!
Thanks!
This field is required
This field is required
This field is required